SSE energy auction plan may shake up power market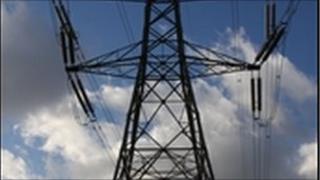 Scottish and Southern Energy (SSE) will start auctioning its entire electricity supply on the wholesale market.
This is the first time such a move has come from any of the big six suppliers, which use their own power stations to generate electricity.
This could allow new entrants to the energy market, bringing more competition for consumers.
But watchdog Consumer Focus said it was unlikely to make much difference to prices for the big suppliers.
Consumer Focus said the big suppliers bought most of their energy "well in advance".
Regulator Ofgem cautiously welcomed the move.
Under this new arrangement, SSE will auction all its electricity supply on the "day-ahead" open market. The firm itself will buy electricity from this wholesale auction.
Will prices fall?
At the moment, few can predict if household prices will come down, but Mark Wiltsher from Ofgem said it, "welcomes SSE's recognition of the need to reform the way suppliers treat consumers".
First Utility, one of the newer entrants to the energy market dismissed the move as "smoke and mirrors", saying they buy less than 1% of their electricity on the next day market. Instead the majority of power it buys is purchased up to two years in advance.
James Tallack from the consumer group Which told the BBC there were many reasons the energy market was not competitive enough.
One of the main drivers being that the big suppliers have a huge customer base that never move accounts. The big six can then attract new customers with competitive prices that smaller ones find hard to match.
Smaller companies also found buying on wholesale markets difficult, because they needed high levels of collateral in order to buy and there was not a diversity of products on offer.
Ian Marchant, the chief executive of SSE, told the Financial Times he expected a few of his competitors to follow suit by Christmas.
These changes will begin this Friday, with SSE trading a proportion of its supply and demand. The firm aims to trade 25% during November.
It may be some time before consumers see whether this filters down to prices and whether billing information is more transparent.