Buckshaw Parkway railway station opens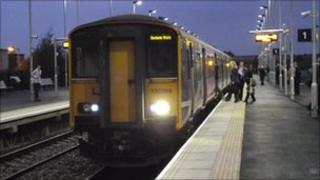 Lancashire's new railway station, the Buckshaw Parkway station, has opened.
The first train, the Blackpool North to Manchester Victoria, arrived at the Buckshaw village station at 06:58 BST.
The £6.8m station was built on the former Royal Ordnance factory site at Euxton and it is estimated it will accommodate 450,000 passengers a year.
County councillor Mark Perks said it was a very proud moment when the first train arrived at the station, which is between Leyland and Chorley.
The Conservative councillor for Chorley North said: "There's not many new train stations in the country so to see one here in Chorley is absolutely fantastic."
He said he hoped people would utilise the new station.
"One of the beauties about this station is it is quite near the motorway network and the town centre and will serve a brand new community," he said.
"I think people will start driving to the station or hopefully people will start walking here."
The station is a joint venture between Chorley Council, Lancashire County Council, Northern Rail and Network Rail.
The station, which has 200 free car parking spaces and bus and taxi drop-off points, is phasing in services until 17 October.
There will be two services each hour in each direction during the day and one an hour in the evening. From 17 October there will be an extra stop each hour during the day and a second hourly stop in the evenings.