Urban Splash's Tom Bloxham warning over Morecambe plans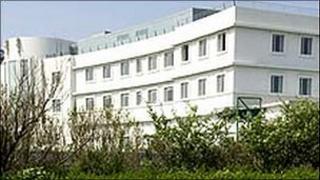 The chairman of a development company working on plans for Morecambe's seafront has said local opposition may force the firm to invest elsewhere.
Urban Splash's proposals to build a mixed use development on the town's Central Promenade have been opposed by local residents.
The site is near the Midland Hotel, refurbished by the company in 2008.
Tom Bloxham, chairman of Urban Splash, said: "If the consensus is they don't want Urban Splash here, so be it."
The Manchester-based developer has been working on plans for the 18.5 acre (7.5 hectacre) Central Promenade site since 2006.
More than 250 objections were received for plans submitted in 2010.
There were concerns that the size of the apartment blocks in the development would dominate the surrounding area and impact on the views of the bay and nearby buildings.
Urban Splash has worked on regeneration projects in Liverpool, Manchester and Birmingham.
Mr Bloxham said: "I only want to work in towns and cities which want us to be there and there are lots of other towns and cities, apart from Morecambe, that are in need of regeneration, and in desperate need of treatment by somebody like Urban Splash."