BAE Systems job cuts: Lancashire bishop backs workers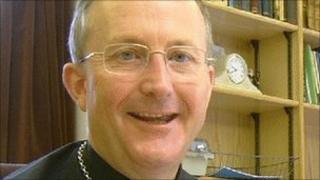 The Anglican Bishop of Blackburn has pledged church support for BAE Systems workers in Lancashire who are set to lose their jobs.
In Lancashire, 565 jobs will be shed from 3,970 at Samlesbury, and 843 posts will go from 6,537 at Warton.
Bishop Nicholas Reade said every Christian in the county should ask what they can do to help the BAE workers.
"Whole communities are at stake, and decades of industrial expertise are under threat," said the bishop.
He added: "As the Church of England we care for and pray for every individual and community in our county.
"That means fully supporting each person, their families and neighbourhoods devastated by these job losses at Samlesbury, Warton and Preston."
The bishop called on people in the pew to rally round those facing redundancy.
"I would urge every Christian to think: "What can I do? How can I help", he said.
The bishop added: "We must support in prayer and action in every way possible those shattered by fear and crippled by anxiety."