BAE job cuts: Atmosphere of gloom in Warton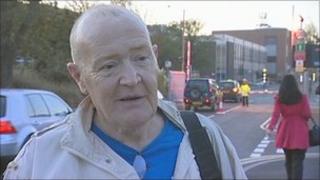 At BAE Systems Warton in Lancashire there was an air of weary resignation among workers arriving earlier, ahead of the company's announcement of almost 3,000 job cuts.
Warton, which assembles the Typhoon fighter jet, stands to lose 822 posts, plus a further 21 at a nearby office supply centre in Preston.
The factory will bear the brunt of the cuts, along with another Lancashire plant at Samlesbury and Brough in Yorkshire.
Only a year ago almost 300 jobs were cut at the factory due to changes in the UK's defence programme.
Although the official announcement had yet to be made as workers arrived, many were already resigned to their fate.
"This is a grim day," one man passing through the factory gates remarked.
Another worker said: "It seems that the workforce is diminishing all the time.
"We're losing skills that will never be replaced in these jobs."
'Warton will die'
Stephen Daniels, an engineer who has worked at the plant for five years said: "People are quite pragmatic about it, they knew it was coming.
"If anyone is to blame it's the banks for the state of the economy."
Steve Jones, who runs Harbour Properties which rents houses to aerospace workers on the Fylde coast, is worried any reduction in numbers of workers at the plant will harm the local housing market.
"My first thought for the whole of the Fylde area really is one of disappointment," he said.
"We've already soaked up a lot of job losses from aerospace over the last 18 months as well.
"For Freckleton, Warton, Kirkham particularly the impact's going to be huge, house prices are going to suffer, all small businesses are going to suffer.
"We've got 230 properties rented out, but it's going to be harder to rent them."
A local resident, who did not want to give her name but has lived in Warton for the past 44 years, said she felt the village had been on a downward spiral for some time and job losses will have a severe knock-on effect.
"Personally I've always said that if British Aerospace goes, Warton will die," she said.
"I can see it's dying now - the paper shop's gone, the library has been gone for a long time, the post office closed two weeks ago."