BAE Systems job losses 'would have huge impact'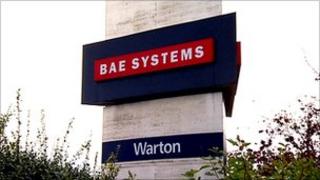 Job cuts at BAE Systems in Lancashire and Yorkshire would have a devastating impact on the local economies, an aerospace engineering firm has warned.
The BBC understands that 2,942 jobs could go at the defence firm's plants in Samlesbury, Warton and Brough as well as at some smaller plants.
Dennis Mendoros, of Euravia Engineering, said four local jobs would be lost for every one cut at BAE.
BAE said its workers would be told the results of a review on Tuesday.
Parts for Typhoon fighter jets are made at Brough, East Yorkshire and Samlesbury, with final assembly taking place at Warton.
It is understood 822 jobs will go at Warton, 900 at Brough, 565 at Samlesbury with the remainder at various smaller sites.
Mr Mendoros, founder, owner and managing director of Euravia Engineering and Supply in Burnley, said: "We calculated that for every job in BAE Systems, there's at least another four elsewhere that are directly related to it."
'Highly skilled'
Ian Waddell, Unite's national officer for aerospace, said the cuts would be a "devastating blow" and that the union would fight "tooth and nail" against them.
"These are highly skilled jobs working at the cutting edge of technology and they are really valuable to the UK economy," he said.
Local MPs have also expressed concern about the expected cuts.
Conservative MP for Fylde Mark Menzies said: "Everyone knows somebody who works at BAE Systems."
David Davis, the Conservative MP for Haltemprice and Howden, said few confirmed facts were available but the matter had not been handled well by the company.
"This is one of the biggest industrial employers in East Yorkshire and the sorts of numbers rumoured are dreadful, I mean, there would be barely anyone left if what we hear happens," he said.
"We've got to hear what they've got to say and argue the case for Brough."
Ben Wallace, Conservative MP for Wyre and Preston North, said any job losses would be a big blow, but added: "I think what we need to recognise, what it will be about will be trying to keep this place [Warton] going... that we are still manufacturing some of the best aircraft in the world.
"That means we have to slow production to get to some of the markets that we need to sell them in in the future."
Mr Wallace said he spoke to the prime minister on Sunday who said he would be putting his full efforts into winning export contracts in India and Japan for the Typhoon.
Shadow defence minister Jim Murphy said it was a devastating blow for workers and their families, particularly in the current economic climate.
He said: "I would appeal to the company and the government to work together to minimise the number of jobs that are cut by compulsory redundancy and make sure everything can be done to get these people back into work as soon as possible."
In a statement, BAE Systems said: "BAE Systems has informed its staff that we are reviewing our operations across various businesses to make sure the company is performing as effectively and efficiently as possible, both in delivering our commitments to existing customers and ensuring the company is best placed to secure future business.
"Whilst there has been a lot of media speculation, it has always been our intention to communicate the results of the review to employees as a priority, and this will take place on Tuesday 27 September."