Shale gas drilling protest camp sets up in Lancashire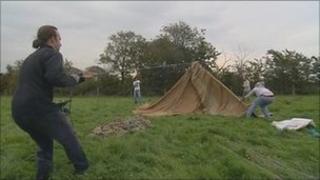 Campaigners opposed to a controversial gas extraction technique known as "fracking" have set up a protest camp in Lancashire.
Supporters of the group, Campaign Against Climate Change, are calling on the energy company Cuadrilla Resources to stop shale gas drilling at Banks.
Cuadrilla began drilling in March to release gas trapped in a seam of shale for use as an energy source.
It said environmental issues was very important to the company.
But opponents believe the method produces damaging carbon emissions.
Fracking involves the hydraulic fracturing of the ground using high-pressure liquid containing chemicals to release the gas.
The government has faced calls from some MPs for an investigation into shale gas extraction after fears that it may have been linked to two minor earthquakes in Blackpool in June.
The process has caused controversy in the US on environmental grounds and claims from some householders that the subsequent release of gas has caused illness.
The protesters intend to demonstrate near Cuadrilla's land on Sunday.
Phil Thornhill, of Campaign Against Climate Change, said: "The whole business of fracking has really taken people by surprise as they don't really know what it is and what damage it can do.
"Shale gas is another fossil fuel, which produces carbon dioxide and adds to global warming.
"Energy companies should be putting their efforts into developing renewable, sustainable energy sources to meet our needs."
Eve McNamara, from local residents' group Ribble Estuary Against Fracking, is concerned about the effect on the surrounding area.
"We have seen some of the problems that they have had in America and we are quite concerned about how it is going to be regulated," she said.
Cuadrilla director Paul Kelly said: "It is entirely right that local people should want to know what is going on in their community, which is why we have consistently gone the extra mile to communicate with local people about our operations and we will continue to do so long after 'camp frack' is gone.
"Health, safety, and the environment are very important issues to us and it is important to note that everything we do is regulated by the relevant authorities and was subject to the scrutiny of a recent inquiry, by the Department of Energy and Climate Change House of Commons Select Committee, which examined all the arguments and came out in favour of continuing with exploration."
Cuadrilla has said that it is convinced there is a significant amount of gas that can be extracted beneath Lancashire if the process can be made commercially viable.