Gary Parkinson: Fans unite for 'locked-in' coach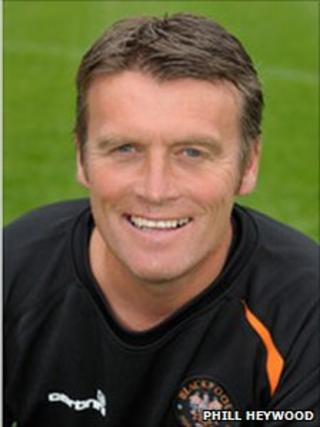 This time last year Debbie Parkinson was faced with a life or death decision over her husband Gary, a former professional footballer.
The Premier League football coach at Blackpool FC had suffered a major stroke which left him with locked-in syndrome - unable to move, speak or swallow.
A few days later, first team players at Blackpool dedicated their 2-0 victory in the Premier League at Newcastle, to him.
But away from the glamour of the game, his wife Debbie, who was keeping a vigil at his hospital bed, was asked by doctors if she wanted to keep his life support machine running.
"I said: 'Yes I do. While there is still life there we keep going'", she recalled.
Sitting at his bedside she told her husband he had to keep fighting.
"At that point when I said it to Gary, his eyes opened and were flickering and I knew then that he could hear inside and there was something we had to keep fighting for him," she added.
The 43-year-old's family have drawn strength from the support they have received throughout the football world.
His former club Middlesbrough had a testimonial match for him in May with fans reviving the chants they used to sing for him.
His family have received thousand of messages of goodwill from friends, fans and players.
"It's been brilliant, all his former clubs have been united really," said his son Luke, who is due to take part in Saturday's Great North Run to raise money for The Stroke Association.
"You can't believe how much support he's had. I've seen him in his football days most of the time they are booing and shouting at the players but I've had messages from fans saying he was a legend at Burnley, Middlesbrough and Preston," he added.
The family have also drawn inspiration from a recent visit he received from Sheffield mother-of-three Kate Allatt who has recovered from locked-in syndrome.
Experts say complete recovery is rare, but patients can make improvements.
"I've always said it to Gary that if one person has made it before there is no reason why we can't do it too," said Mrs Parkinson.
"I have since found there are many people who have come through locked-in syndrome and are leading a good quality of life."
In his playing days, Parkinson was a member of the Middlesbrough "Spirit of 86" team which had been locked out of the ground and relegated to the old Third Division.
Five years later he was playing for them in the inaugural season of the Premier League.
His family are hoping for a far more remarkable comeback.
To communicate he raises his eyelids upwards to say yes and lowers them to say no but in the last few days there has been a glimmer of hope with his fingers moving for the first time since the stroke.