Red Arrows will attend the Morecambe Seaside Festival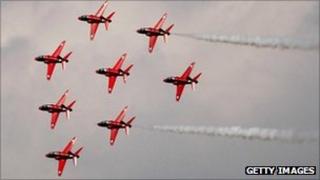 The Red Arrows have confirmed that they plan to attend the Morecambe Seaside Festival on Sunday.
The visit had been put in doubt following a crash that killed one of the pilots, Flt Lt Jon Egging, last month.
Following a period of mourning, the Red Arrows said they would continue the rest of the season's public displays.
They performed their first public aerobatic display since the crash in Chatsworth on Friday.
They flew in the famous diamond formation leaving a space where Flt Lt Egging would have flown.
Councillor Ron Sands, cabinet member with responsibility for tourism at Lancaster City Council, said: "This has obviously been a very emotional time for the Red Arrows and we would have understood if they had cancelled their visit to Morecambe.
"However, it's great news that they have announced that they will be continuing their displays and I'm sure it will be a fitting tribute to Flt Lt Egging."