Camelot Theme Park ride to remain closed after fall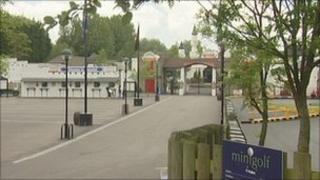 A ride at a theme park in Lancashire will remain closed after a 12-year-old boy fell from it.
The child fell from Excalibur 2 at the Camelot Theme Park in Chorley at about 13:00 BST on Tuesday, the Health and Safety Executive (HSE) said.
The 12-year-old from Halifax, West Yorkshire suffered serious but not life threatening injuries, police said.
A spokesman for the theme park said the ride would be closed until the HSE gave it the go-ahead to reopen it.
The spokesman said: "We are in contact with the boy's mother and our thoughts remain with her and her family at this difficult time.
"Our internal investigation is well under way and we are co-operating fully with the police and Health and Safety Executive.
"The safety of visitors to the park remains our number one priority. Every ride undergoes a daily, pre-opening safety and maintenance check throughout the season and is subject to an annual, independent safety inspection.
"Excalibur 2 will remain closed until our internal investigation is concluded and the HSE confirms that the ride can re-open."
Excalibur 2 is a wheel-shaped rotating structure which spins around. It is described as a "fearsome, stomach-churning test of the nerves".
The boy was taken to the Royal Albert Edward Infirmary in Wigan. A spokeswoman said he was "comfortable and improving".