Lancashire cemeteries' tales of heroes and villains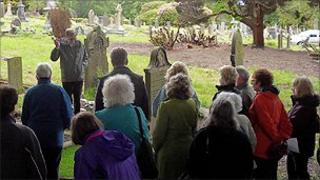 One cemetery in Lancashire chooses to lock its gates to deter trouble - another decides to throw them open to embrace the local community.
Two very different approaches to interaction with residents, that come in response to widely-differing levels of vandalism.
Chorley Council has closed its Southport Road cemetery gates at night, after a spate of thefts from graves - even the pedestrian access is under review.
However, while Chorley is not alone in the north west, volunteers at Darwen Cemetery are taking the opposite tack.
Friends of Darwen Cemetery - who have recently commemorated the cemetery's 150th anniversary - are actively encouraging as many local people as they can through the gates.
'Close-eye'
They believe that encouraging more visitors keeps away the troublemakers.
The friends group was set up in March last year, in partnership with Blackburn with Darwen Borough Council.
Their aim is to improve the look of the cemetery, greatly overgrown in some areas with roots of rhododendron and ivy.
They have come up with a wide variety of activities to encourage everyone in the town to take an interest in the heritage and wildlife which the cemetery offers.
Friends chairman John East said: "We have been lucky at Darwen. There has been very little vandalism but we and the council have to keep a close eye on things.
"Meanwhile, we are doing our best to get everyone interested and so far the response has been very good."
Murder walk
Dozens of broken and flattened headstones have been re-erected by the group, as well as the usual activities that Friends groups undertake - seeding, chopping and planting; digging, weeding and levelling.
Children have been encouraged to go on bat walks, make nesting boxes and plant trees and wild flowers, while the parents and grandparents are being encouraged to tackle dry-stone walling and go on a range of organised tours.
The 150th anniversary was marked a few weeks ago by the unveiling of a stone to mark the first interment, an illegitimate baby boy, buried in an unmarked grave because his mother had no money to pay for it.
And on Sunday 9 October, to mark World Mental Health Day, the Friends will unveil a headstone to commemorate Eccles Shorrock.
The benevolent mill owner put the town on the map when he built the impressive textile mill, India Mill and its famous chimney, visited by peregrine falcons and steeplejack Fred Dibnah.
Mr Shorrock had bi-polar disorder and died in the Edinburgh Royal Asylum in 1889. His grave was never marked because of the stigma of mental illness.
The cemetery is also home to the graves of 90 Commonwealth soldiers and other industrialists who helped shape the town in the 19th Century, and their stories are told in regular tours through the grounds.
One of the next organised tours on the evening of Sunday 30 October will be a Halloween walk that will recall several murders and deaths.
It is this community involvement the Friends feel is the way forward.
"You have to get young people involved," said Mr East. "You have to encourage them to take ownership of the cemetery.
"All our efforts combined makes the cemetery a place of value to people.
"We hope that people will honour what we've got here."