'Brainiest' footballer Clarke Carlisle on drink-drive charge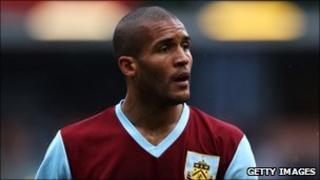 A sportsman once named "Britain's brainiest footballer" has been charged with drinking and driving, it has emerged.
Clarke Carlisle, of Ripponden, West Yorkshire, was stopped by police in an Audi Q7 in Prestwich, Greater Manchester, on the morning of 29 July.
The Burnley player, who recently joined Preston on loan, denied the charge at Bury Magistrates' Court on 8 August.
The 31-year-old defender is due to stand trial at the court on 18 October.
Carlisle, who is chairman of the Professional Footballers' Association, was crowned "Britain's Brainiest Footballer" on an ITV show in 2002.
He was on the long-running Channel 4 quiz show Countdown last year, winning twice.
He also appeared on Question Time last year, alongside Environment Secretary Caroline Spelman and former Labour spin doctor Alastair Campbell.