Files reveal Blackburn MoD police UFO sighting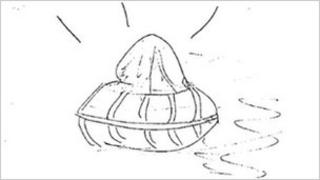 Newly-released government documents have shown how three Ministry of Defence police officers spotted a UFO over Blackburn in 1979.
The files include a written description of how the object flew over the Royal Ordnance Factory (ROF) on 24 February 1979. They also include a drawing.
The object was said to be about 30ft (9m) across. As it flew off over Darwen, it lit up several streets.
Nine orange bright lights were also seen in the Lytham area in June 2006.
'Smash spacemen'
Photographs and sketches of UFOs, made by members of the public, are included in the files from the National Archives as well as their eyewitness reports.
The Blackburn sighting was submitted by the director of the ROF, who described the witnesses as "three sober, steady, reliable policemen, one of whom is a sergeant".
The UFO was described as a saucer-shaped object, which had a lightbulb-shaped dome on top, had trailed vapour and was at a height of up to 700ft (213m) in the sky.
"The sergeant reported to the local police who laughed like Smash spacemen," the report went on to say.
The files record how the unidentified object was seen on three separate occasions and made no sound.
The files can be downloaded free of charge for a month from the National Archives website.
Many of the reports show the MoD had a lack of will and resources to study thousands of reported sightings submitted to the department.