Python rescued from Morecambe office chair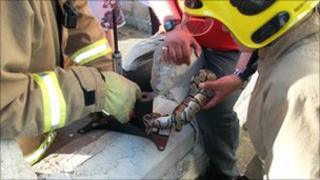 Fire crews in Lancashire were called to an unusual rescue after reports that a snake had become trapped in a piece of furniture.
The 3ft (0.9m) python was stuck in the adjustment mechanism of an office chair at a home on Alexandra Road in Morecambe.
Small tools and a crow bar were used to open up the mechanism and the snake, called Brian, was gently pulled out.
Despite his confinement, Brian appeared to be unharmed following his release.