Two accused over Blackpool Tower gas extraction protest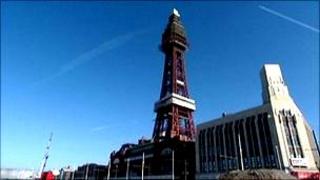 Two men have been charged after a protest was staged on Blackpool Tower over a process of extracting gas.
A man, 63, from Reigate, Surrey and a 24-year-old from Hove, East Sussex are charged with obstructing or disrupting a person engaged in a lawful activity.
Both have been released on bail, to appear at Blackpool Magistrates Court on 16 August.
Banners against the gas extraction, known as fracking, were put on the south side of the tower on Saturday.
Energy company Cuadrilla suspended operations, near Blackpool in June, over fears of a link to two minor earthquakes in the area.
The process has caused controversy in the US where some householders claim that shale gas leaking into their drinking supply causes tap water to ignite.