Preston trams 'could be running in 2012'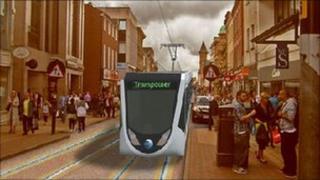 Trams could be running in Preston as early as next year, if funding for the project is approved.
Plans for the Guild tram line, linking the M6 at junction 31 at Fulwood with Preston railway station, are subject to a £9m government funding bid.
Preston Tram Power, the consortium behind the bid, have said it would bring thousands of jobs to the area.
Spokesman Malcolm Clarke said he hoped the tram would be running before the Preston Guild 2012 celebrations.
"If we were successful with the bid we would be certainly looking at getting the demonstrator line up and running very, very quickly," he said.
Solar power
"I think we could get something done in three to six months, and get something up and running before the Guild.
"That would be fantastic if we could do that."
The Guild Line is the first of a proposed four-line network, which will connect parts of the city with park-and-ride stations outside the city centre.
It will be powered by renewable sources of energy, such as wind and solar power and the trams would be environmentally friendly with a full capacity of 200 passengers.
Trams have not operated in Preston since 1935.