Tolerance game in memory of killed Goth Sophie Lancaster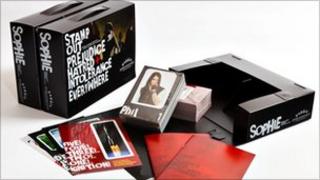 The mother of a girl who was murdered because she was a Goth is launching an educational game in London to encourage children to be more tolerant of others.
Sylvia Lancaster, whose daughter Sophie was murdered in a Bacup park in Lancashire in 2007, has been working on the idea for the past four years.
She wants schools around the country to allow their pupils to play the game.
The children are given images of people from different cultural backgrounds and have to say who would be their friends.
The game was officially launched at Kidbrooke Secondary school in Greenwich on Friday afternoon.
After Sophie's death, her mother along with family and friends set up the Sophie Lancaster Foundation charity. The charity campaigns to change attitudes in society towards people who may have a different lifestyle or appearance.
The charity says its aim is to Stamp Out Prejudice, Hatred and Intolerance, Everywhere (S.O.P.H.I.E).
"To teach young people to be tolerant of others is giving them a crucial skill that will enable them to get on in life," Sylvia Lancaster said.
"Working many years as a youth worker has taught me that one of the biggest stumbling blocks for young people with aspirations is their inability to understand or relate to people from different walks of life to them.
"Our game should show them simple techniques that help them break through this barrier."
She said the game had been tried in a couple of Lancashire schools and the response from pupils had been positive.
"There are no ultimate winners in this game, no right or wrong answers," she added.
The game is designed for year seven students, consists of 30 cards, which represent many common ethnic and religious and social groups.
Players are set a series of tasks which challenge any preconceptions and encourage development in problem solving and team working skills.
The charity hopes teachers will use it in their PSE (personal and social education) classes.
Sophie Lancaster, 20, was kicked and stamped upon by two youths in a Bacup park on 24 August 2007 for being dressed as a Goth.
Ryan Herbert and Brendan Harris, both from Bacup, were jailed for life in 2008 for Miss Lancaster's murder, and for causing grievous bodily harm to her boyfriend Robert Maltby.
Sentencing them in 2008 Judge Anthony Russell QC said: "This was a hate crime against these completely harmless people targeted because their appearance was different to yours."
Goths emerged as a youth subculture in the early 1980s.
Although initially used to describe a form of music, it has evolved to encompass literature, art and fashion, with its exponents typically dressing in dark clothing.