Shot Pc Katie Jones in national bravery awards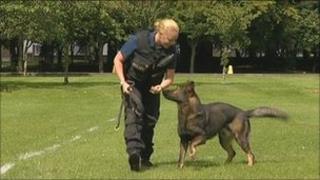 A police dog handler who was shot as she confronted armed robbers in Lancashire has been nominated for a national bravery award.
Pc Katie Jones, along with Pc Ian Tinsley - who came to her aid after she had been shot, will meet David Cameron before a ceremony at the Savoy Hotel.
They are Lancashire's nominees for the Police Federation Bravery Awards.
"They represent the very best of Lancashire Constabulary," Rachel Baines, of the police federation, said.
"The nomination recognises the courage, determination, professionalism and commitment of these two officers," she added.
"The public of Lancashire should be proud of their actions that day."
Four raiders in balaclavas threatened staff at gunpoint at the Hospital Inn in Bamber Bridge on New Year's Eve in 2007. They tied them up and left them lying face down in a bathroom.
As they fled with £12,000 of takings, they were confronted by Ms Jones and Mr Tinsley.
'Ruthless and dangerous'
Ms Jones was involved in a stand-off with one of the robbers, who shot her in the leg. Mr Tinsley then put himself between her and the gunman.
Wayne McDonald, formerly of Didsbury in Manchester, was jailed for life by a judge at Preston Crown Court who described him as "ruthless and dangerous".
Three others received sentences ranging from three to eight years.
Ms Jones, of Ormskirk, now works for the tactical firearms team.
"I was determined to not let it stop me and it hasn't done," she said.
She said she had feared she may not be able to return to work but she was "lucky enough to say I managed to get back".
Ms Jones said she was "over the moon and quite taken aback" by the nomination.
"I'm really really pleased," she said. "It's a cracking opportunity to go and meet the prime minister."
Both Pcs received the Chief Constable's commendation in 2009 for their bravery.
They were also presented with the William Garnett Cup, awarded by Lancashire police to the officer or officers performing the most gallant deed of the year.
Mr Tinsley retired from Lancashire police in 2009, after 30 years of service.