Sails set to turn again for damaged Lytham windmill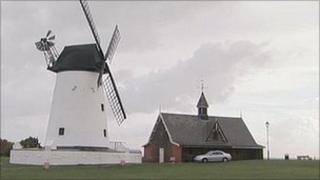 A historic Lancashire landmark which was badly damaged in overnight storms in November is close to being restored to its former glory.
Lytham windmill was built more than 200 years ago but two of its four sails were smashed when strong winds gusting up to 100mph struck the county.
Elsewhere the weather caused more problems. Further along the coast sections of Blackpool's Illuminations were destroyed and inland the roof was blown off Darwen Tower.
Now, nearly eight months later, the Fylde windmill has almost been totally repaired following a worldwide search for the right wood to rebuild the sails.
Replacements are now being finished off along with new blades for the fantail on top.
Master craftsmen
Andrew Dixon, head of technical services at Fylde Council, said it had not been easy to find such giant pieces of wood.
"The wood for the main sail shafts had to be 30ft (9.14m) long with a 10in (25.4cm) by 10in cross section. To get seasoned timber like that, it had to be imported," he said.
Indeed, the master craftsmen who are undertaking the task had to bring Douglas Fir timber from Canada.
"Each sail has to be hand cut, they weigh a tonne and a half each when fully assembled so it's quite a task to construct them," Mr Dixon added.
The new sails are being handmade by Gillett and Son, who are based in Wesham. They have worked on similar restoration projects but also build coffins for their funeral business.
The condition of the remaining two sails on the windmill is unclear at the moment.
"We will only know what they're like when the new ones are attached and we can turn the sails around," craftsman Joe Gillett said.
"The sails will only move when they're all on as it's to do with balance, then we can think about possible replacements.
"We're putting new blades on the windmill's fantail as they were blown off and we have the lightning conductors that were originally put on by steeplejack Fred Dibnah to put on too," Mr Gillett added.
The restoration work should be completed in time for the seaside resort's proms concerts, which take place in August.
Lytham windmill was built in 1805 but in 1919 was closed due to a fire.
It was later renovated and now has exhibits showing the history of mills and life in Victorian Lytham.