Blackburn Diocese welcomes 16 new priests and deacons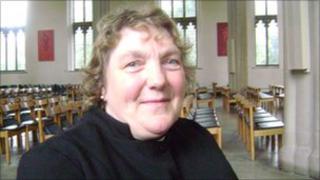 Parishes have welcomed new deacons and priests to their congregations after a number of ordination services took place across Lancashire.
Eight deacons were ordained at Blackburn cathedral and eight priests ordained at services at other churches in the Blackburn Diocese.
The Bishop of Blackburn, the Reverend Nicholas Reade, said it had been "one of the happiest weekends of the year".
The new clergy will work in both rural and urban churches.
Church of England clergy are initially ordained deacon after their theological training, before traditionally being ordained priest a year later.
Sunday school
Janet Taylor from Maudsley, a part-time teacher, will combine classroom and church to serve in a supported ministry as a deacon at St Lawrence's Church in Chorley.
She said her journey had been one of "uncertain contemplation".
"There are only so many years you can fight God," she said.
"I finally gave in, went for an interview with the church and decided to accept whatever answer came back. The answer was yes."
She has always been involved with the church, from teaching at Sunday school to singing in the choir.
"Deep down the feeling has always been that I was being called to more, though what the more was I didn't know," she said.
Adding that her forthcoming ministry at St Lawrence's church would be "a new walk with God".
Desperate situations
Another new deacon is Bristol born Matthew McMurray who is going to St Christopher and St Nicholas Church in Blackpool.
"My vocation has been with me since the age of fourteen," he said.
"I was once reading the priest's lines in a service book and began thinking I would quite like to do that."
He said he that he felt unlikely to be fazed by some of the more desperate situations he may encounter in a town known for its vibrant life and also its social challenges.
"Already in my life I have come across some tragic situations and some quite difficult people. It is very important to put any adverse first impressions down and simply just allow someone to tell their story," he said.
Offer hope
The Reverend Sue Bell gave up a 28 year career in teaching to explore her vocation. With a husband and son to help support, she said it was a big decision to take.
"It was big leap. God was clearly saying I needed to come out teaching, so I did that and it was a case of seeing what happened."
She has already spent a year as a deacon at St Lawrence's in Longridge where she sees her role as a support for those who want her help.
"All the way along my training process, in my head, I saw myself rolling my sleeves up and walking alongside people. That is very much what I believe I am called to do.
"To walk alongside people, sharing whatever it is they are going through, particularly if there are dark times. I can then offer them the hope that God has not packed his bags and gone away. I can tell them he is still here and is walking step for step with you," she said.
Joe Wilson presents the faith programme on BBC Radio Lancashire from 6am each Sunday.