Charity set up to support Blackpool Winter Gardens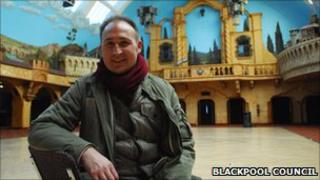 A new charity is being launched to support the redevelopment of Blackpool's Winter Gardens.
The Grade II listed Victorian building receives financial help from a number of sources, but some will end in 2012.
While the formation of the charity is a council-led initiative, it will operate independently of the council itself.
The group will seek funds for projects which are harder to source money for at the Lancashire entertainment complex.
It will be led by a board made up of a panel of experts, including council members.
The complex has already seen some improvement work in the Floral Hall area and a new coffee shop and the Empress Grill Room.
As well as raising funds for the Winter Gardens, the charity will look at ways of getting the public involved in the running events.
Poster auction
"We want to set up something separate from the council so people can have an input and steer some of the projects," Carl Carrington, Blackpool Council's built heritage manager, said.
"For example we know where parts of the Empress Wurlitzer organ are, so the charity may decide it wants to raise money to put it back and make it the only building with two Wurlitzers.
"If there's a much bigger project and the council were looking to get Heritage Lottery Funding, it's always useful to have an organisation with parallel objectives working alongside.
He added: "The council will be represented on the board but only as a small proportion, so if the board decides on something the council can't interfere with that."
As part of the charity's initial fundraising attempts it is auctioning a series of selected items from the council's historic collection of original advertising posters from the 1930s to the 1950s, along with other unique memorabilia on Thursday evening at a gala event.
The Winter Gardens project has already received nearly £29m of funding from the European Regional Development Fund, the North West Development Agency and from the Homes & Communities Agency.
The entertainment venue along with the Golden Mile Centre and the former Louis Tussauds attraction were bought by the council in March 2010.