'Whitebirk witches' given anti-social behaviour orders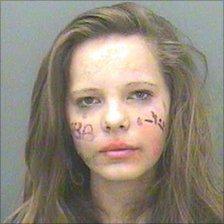 Two girls who were known as the "Whitebirk witches" have been given anti-social behaviour orders (Asbos) for terrorising their neighbours.
Amanda Holt, 16, and Tori Duxbury, 15, caused problems for people living in the Whitebirk area of Blackburn, magistrates were told.
Police said they received a "catalogue of complaints" about the pair.
They included intimidating people, throwing stones at cars, damaging property, shouting and swearing.
Police said one resident felt like a prisoner in his own home and would keep his lights off after dark so the girls did not know he was home.
He also checked they were not outside before leaving his home.
The Asbos - which are in place for two years - prevent the girls from entering an area of Whitebirk, except when Duxbury is in the company of her mother.
They are also banned from being outdoors in a public place in Blackburn between 2200 and 0500 BST until 31 December.
'Targeted the vulnerable'
The pair cannot see each other or six other youths, nor can they act or incite others to act in an anti-social manner.
Pc Tom Sanford, of Lancashire Police, said: "The behaviour of these two girls has been unbearable for the other people living in the area.
"They targeted many properties and residents, many of whom were vulnerable.
"We are committed to making sure Blackburn is not blighted by this type of behaviour and will continue to use tactics such as Asbos to rid local communities of such nuisance."
Linda Clegg, Blackburn with Darwen Council's director of children's, safeguarding and protection services, said the local authority was working with the girls and their families to ensure they adhered to the orders.
Related Internet Links
The BBC is not responsible for the content of external sites.