Burnley riots: Town 'moves on'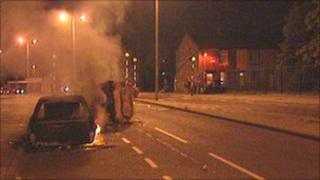 For some people the Burnley riots 10 years ago put the town on the map.
The weekend of the 23 and 24 June 2001 saw the east Lancashire mill town in flames as inter-racial violence erupted with attacks on cars, homes and shops causing an estimated £1m worth of damage.
But for local councillors, civic and community leaders, being known for the riots is something they are trying to live down.
The town's Liberal Democrat council leader Charlie Briggs insists Burnley has moved on from the summer of discontent.
In the aftermath of the riots the town became a focus for the British National Party, with eight of the far right party's candidates elected to the local council in 2003.
But by 2011 this was down to one.
"We're not all cloth caps and whippets and we don't have riots," said Mr Briggs.
Government recognition
He added: "We had Vince Cable coming to the manufacturing summit, we would never have got anybody from the government coming up to Burnley in 2001.
"The reputation of Burnley is going higher up the ladder."
A cause for such optimism is highlighted by the case of Hasan Haidry, who said that 10 years ago he was in a gang but is now training to be a teacher.
"Leaving school there was no hope, there was nothing to look for... it's developed in the town, I've developed, going away from bad things so to speak," he said.
Mr Haidry was helped in his new career path by the Prince's Trust, which targeted Burnley after the disturbances.
"Unemployment was quite rife at the time - that's one of the issues that's still going on now," said Sue Lofthouse from the trust.
"What we wanted to do was work with those young people that needed the skills and confidence to get back into work."
Mr Haidry is studying at one of the new campuses built following a decision to replace of the borough' s secondary schools with high-tech colleges.
The buildings are not restricted to school hours but are available for the whole community as places to learn and interact with a strong emphasis on community cohesion.
They double as social hubs with cafes and faith centres.
But other social improvement projects have become victims of the public spending squeeze.
Some streets where houses were demolished as part of a regeneration are now wastelands with the government announcing there is no money to build on them.
"I'm as frustrated as anybody," said Mr Briggs, "I don't like to see areas grassed over, I want to see new builds.
"I hope we are going to get some extra money."
Meanwhile it seems that whatever momentum the town has gained may have run out of steam due to the economic downturn.
The official Task Force report into the causes of the Burnley disturbances said that they were not "race riots" but began as a war between rival drug gangs, which were deliberately exploited by organised white racists and exacerbated by grinding poverty, chronic deprivation, poor housing, unemployment, drug abuse and petty crime.
Ten years on the statistics do not make optimistic reading.
This year Burnley slipped 10 places down the official poverty table of England to become the 11th most deprived borough in the country.
The statistics, from the government's Index of Multiple Deprivation, look at crime, housing, unemployment and education. The study was last carried out in 2007 when Burnley was in 21st place.
And youth unemployment is higher than 2001.
In May 2001 5.2% of 18-24 year olds in Burnley were claiming Jobseeker's Allowance compared to a national average of 4.6%.
By May 2011 that figure had risen to 8.8% compared to the national figure of 7%.
Whatever economic challenges the town faces there are those who now believe there has been a change in social attitudes.
Ten years ago Zaff Ali recorded an audio diary for the BBC saying how unsafe he felt in a time of inter-racial tension.
But now the former taxi driver thinks Burnley is a peaceful place to live.
"The majority of Burnley folk are decent folk, they live and let live," he said.
"The next door neighbour could be black, pink or blue, they don't care, it's just a very small minority who give Burnley a bad name."