Rare St Ursula badge unearthed by Preston detector man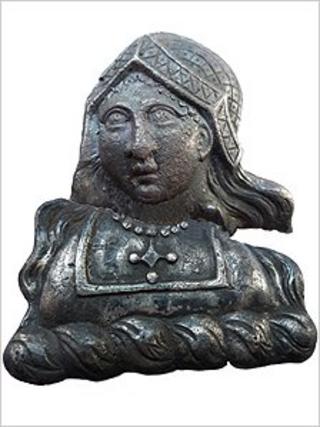 A man from Preston has found a rare medieval badge while testing out his new metal detector.
Paul King was on land between Preston and Blackburn when he discovered the silver badge, showing one of the companions of St Ursula.
The woman on the badge is wearing early 16th Century dress.
Dr Michael Lewis, deputy head of the portable antiquities scheme at the British Museum in London, described the find as "beautiful and interesting".
He said: "Normally the badges are made of lead, so it's quite unusual to have them in silver."
The badges were worn by people on pilgrimages. They would buy one with a different image of a saint at each shrine they visited.
The shrine of St Ursula is associated with Cologne in Germany - about 500 miles from the Lancashire field where it was uncovered.
Mr King was trying out a new metal detector for the first time, after retiring his 18 year-old model.
"I didn't think I'd find very much, as I'd already covered the ground," he said. "I came up with a really good signal and dug about eight inches down, and up popped Ursula.
"Once I'd brushed the soil off, the face appeared and it struck me that it looked in such condition. It was striking the way it just appeared."
Mr King is excited about the "buzz" his find has caused between the metal detecting fraternity, archaeologists and museums.
The artefact is now in the hands of the coroner who will decide the ownership of the treasure.