Morecambe Football Club takes top pie award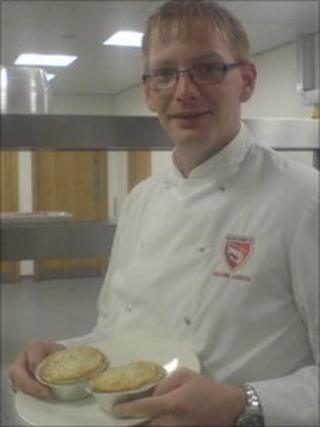 Morecambe Football Club may have had a difficult season on the pitch but the League Two club has managed to land a major national culinary honour.
The pies made at the Lancashire club's Globe Arena for hospitality events have been named as the best in the country beating more than 600 competitors.
The chicken, ham and leek pies won the "Supreme Champion" title at this week's British Pie Awards in Melton Mowbray.
Head chef Graham Aimson said he was surprised to win.
"There were hundreds of entries, we put in four including the football league category," he said.
"There were big names, big supermarkets like Waitrose, big bakers, small artisan bakers and to take the top award was unbelievable. We had no expectations."
'Try hard'
Mr Aimson would not reveal the secret to his pie winning success but stressed all ingredients were raw and fresh and all made by hand rather than using old fashioned machinery.
"It wasn't my favourite pie but the judges and critics loved it," the chef added.
The pies can only be sampled by those enjoying the club's hospitality events, however with their recent success the kitchen is looking to roll them out for all fans to enjoy next year.
Morecambe finished 20th in League Two in the season which ended last month, avoiding relegation from the league by just four points, a year after reaching the promotion play-offs. Manager Sammy McIlroy left the club at the end of the season after five years in charge.
When asked if he had any advice for the club's new manager Jim Bentley, chef Mr Aimson said he should "try hard and keep committed".
"He's a good man, well liked by the football club, team and the locals."
The Supreme Champion of the Awards "Pie of Pies" wins a shield and a prize of £1,000. The awards aim to celebrate the heritage of the British pie and promote regional specialities.