Lancaster care worker Daleen Van de Sande jailed for theft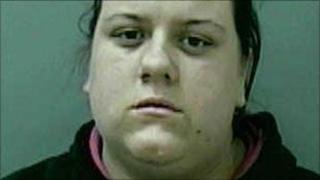 A care home deputy manager who stole £11,500 from an 84-year-old resident has been jailed for 12 months.
Daleen Van de Sande, 24, wrote herself 21 cheques she had taken from Patricia Wiper, a resident of Abbeyfield care home in Lancaster, in 2009.
Lancaster Crown Court heard the theft was exposed after Miss Wiper's death when her nephew examined her account.
Van de Sande, who admitted theft, had attended her victim's funeral meal to comfort her family, the court heard.
Miss Wiper's nephew Peter Harrison - an accountant - told the BBC that his suspicions were raised after his aunt's death in December 2009.
Looking through her bank statements, he spotted a number of cheques that he could not account for.
Family anger
"We'd expected there to be about £12,000 in her account and there was about £300. We couldn't understand that," said Mr Harrison.
After contacting the bank and asking for copies of the cheques, Mr Harrison, 62, established that Van de Sande had been "systematically" stealing from his aunt, who was known to the family as Trixie.
"I was really, really annoyed," he said. "She must have known how much money Trixie had left and to take it down to £300... In fact, she didn't have enough money to pay her last rent had she come out of hospital.
"That basically says what kind of person she is."
Van de Sande, of Denny Avenue, Lancaster, was sentenced at Preston Crown Court on Monday.
John Crisp, director of housing at Abbeyfield, said staff were shocked by the theft and had no suspicions about Van de Sande.
"All our members of staff go through a robust recruitment process," he said. "In this case we didn't have any cause to question the credentials of the employee. In fact she was a very, very popular member of staff."