Campaign to bring back Accrington's World Clock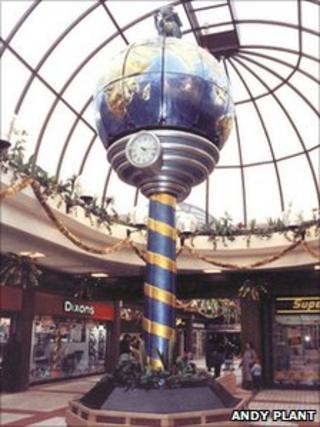 For nearly seven years, time has stood still for a Lancashire clock, which has prompted a group of people to set up a campaign to see it restored to its former glory.
Back in 1987 artist Andy Plant saw his "World Clock" erected in Accrington's newly opened Arndale shopping centre. However in 2004 it was dismantled after it stopped working.
The timepiece was then placed in storage. Over the years there have been many urban myths surrounding its fate, including that it had been placed in a rubbish skip.
The artwork stood about 25ft (7.62m) high and featured a huge globe atop a striped metal column.
'Looking tatty'
It would open up every hour with Father Time on a bicycle and mythical characters such as goblins coming out of the top, playing Bill Haley's famous song Rock Around the Clock on musical instruments.
The characters would then be lifted about a further 7ft (2.1m) into the air.
Recently the clock has been uncovered in a storeroom within the shopping centre, just as artist Mr Plant had left it when he took it down.
"I'm surprised to see it in such good condition, but some of the paint on Father Time is looking tatty, the sun shining through the atrium affected it over the years," Mr Plant said.
He agreed that some of the people watching the clock found the characters very strange.
"It was in a fantastic space and it could go back in the local market which is a beautiful building," he said.
"I don't know if there's a suitable site as it needs space around it to view it and structurally the floor would have be sound enough to support the weight.
"If it was ever restored it needs a plinth with seating around it and power."
"Off the top of my head I couldn't say how much it would need to bring it back and I know the market already has a clock, but it's just functional."
One of those who form a group of nearly 4,000 Accington Clock supporters on Facebook is Kaisse O'Neil.
"It was part of my childhood, if you mention the globe clock to people they say they remember it, it was an attraction," she said.
"It would open up like a Terry's chocolate orange, people would applaud the Father Time and goblins as they came out.
"It was something like Marmite, you loved it or hated it. The market would be a good site as it's just been renovated. It's high enough but we need people to help pay for it that's why we want to see how much people want to bring it back."
But a return to Accrington's Arndale Shopping Centre is not possible, according to its manager Zain Kiyani.
"There's just no space but we are willing to help the clock supporters find a suitable area," he said.
Listed building
The cost of reinstating the clock is also a stumbling block.
"If it cost £20,000 back in the 80s to install and the artist made no money on it, I would be very surprised to what it would cost now to reinstall it.
"The clock was offered to the council in 2006 to have it installed on Broadway but I think the costs meant it couldn't be done at the time and I'm sure it's not got any cheaper.
"Will people put their hands in their pockets? If the Facebook people are really dedicated to bring it back it would cost them about six pounds each," he added.
Hyndburn Council are aware of the interest to see the globe clock return to the east Lancashire town.
But as with councils across the country they are also having to face making their own budget cutbacks and finding cash in the council coffers to fund a project like this could be difficult.
"There are lots of issues to see whether it can go back in the market hall, not least that we've done a £2m renovation on it," Councillor Clare Pritchard said.
"It's a listed building and we're not sure we could put it in there. There is an open space but that's used for holding events.
"There are ongoing maintenance issues surrounding the clock, it's a bespoke piece. There's not a great deal of money around in local government, it's the taxpayers' money at the end of the day so we would welcome any thought from them and from market traders.
"We're not making any promises but we will look into it," she added.