Blackburn Rovers boss Steve Kean in drink-drive arrest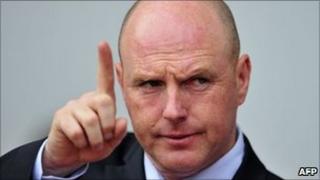 The Blackburn Rovers manager Steve Kean has been charged with drinking and driving after being stopped by police on the M6 motorway.
The 43-year-old was breathalysed by police in Cheshire, hours after Saturday's 1-1 draw at home to Manchester United.
He has been charged with driving under the influence of alcohol and is due before Crewe magistrates on 7 June.
Kean was appointed Rovers manager in December 2010.
A spokesman for Cheshire Police said: "At 2050 BST on Saturday 14 May, Cheshire officers stopped a Mercedes car on the M6 southbound carriageway, between Junction 19 and 18.
"The driver, a 43-year-old man, provided a positive breath test.
"He was subsequently charged with driving while under the influence of alcohol and bailed to appear at Crewe Magistrates' Court on 7 June."