Olympic flame heads to Blackpool in UK torch relay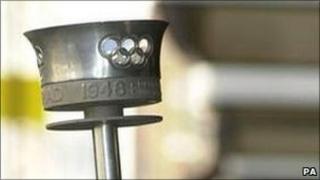 The Olympic torch will visit Blackpool on its 70-day tour of the UK ahead of the 2012 London Games.
After starting in Land's End, the flame will be carried into the Lancashire coastal town on 22 June.
Although the exact route has not been confirmed yet, the town's council sees it as a great honour to be chosen.
A welcome event will be hosted on the resort's new Tower Festival Headland, a multimillion-pound project to redevelop the promenade.
'Momentous occasion'
London 2012 chairman Lord Coe has outlined a route of more than 70 overnight and island stops, which will mean that the torch comes within a one-hour journey for 95% of the population.
It will travel around the UK arriving in London the weekend before the 2012 Games begin.
The area on Blackpool's front where it will be officially met is being transformed.
It will have an outdoor events arena which can host 20,000 people, a piece of artwork called the Comedy Carpet and new improved pedestrian access.
Alan Cavill, the council's assistant director for economy and tourism, said: "We are very proud that Blackpool has been chosen to play host to the Olympic flame as it makes its way to the Games watched by millions.
"We are equally as excited that we will be able to do the visit justice by hosting one of the first events on the new Tower Festival Headland that evening.
Olympic cauldron
"It will be something that everyone will be able to be involved in and help us celebrate this momentous occasion for the town and this country."
Lit in Olympia, Greece, in a traditional ceremony, the Olympic Flame will be taken on a short relay in Greece before arriving in the UK on 18 May 2012.
The origins of the torch relay look back to ancient Greece, when messengers were sent out from Olympia to announce the competition dates and call for a halt to all combat operations during the Games.
In 2012 the final torch-bearer, whose identity is kept secret until the last moment, lights the monumental Olympic cauldron in the stadium, which is kept alight until the closing ceremony.