Darwen Tower top repair date set after wind damage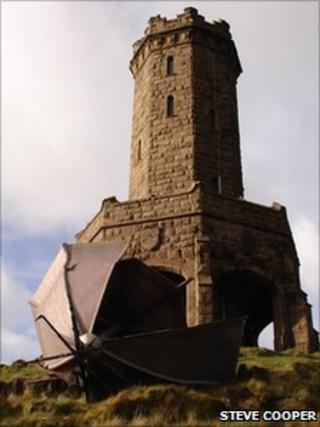 A Lancashire landmark damaged in strong winds last year looks set to be restored to its former glory next month.
The rocket shaped Darwen Jubilee Tower saw its glass fibre dome and weather vane blown clean off during winds of up to 80mph (129km/h) on 11 November.
The last time this happened was in 1947, when it took nearly 30 years to put the dome back on - and the repairs this time look likely to be carried out much more quickly.
Six local firms volunteered their services to repair the tower, its dome, nearby footpaths and fences for the cost of just the materials. However there has been a six-month delay as the replacement dome structure needed to have consent from English Heritage.
Peter Hunt, director of regeneration for Blackburn with Darwen Borough Council, said a change in materials prompted the need for official approval.
'Less maintenance'
"The dome that blew off was fibreglass, the company making the new one, WEC group, are making one from powder-coated stainless steel," Mr Hunt said
"If it had been put back with exactly the same materials we probably wouldn't have needed the consent. But the offer came in with what seemed to be better materials, less maintenance and one would hope it would last longer.
"The appearance will still stay the same though.
"We believe the company are intending using a helicopter to put it back in place towards the end of June."
As well as local businesses getting involved in its restoration, there has been financial support from the public, he added.
"The whole history of the tower rests on public subscription, when the lantern came off in 1947 the council went to the people from Darwen to pay for its replacement," Mr Hunt said.
"The tower's funding has a history of it not coming from the council taxpayers, it comes from the public who are interested in the building."
After the problematic weather of 2010 collection boxes were distributed around Darwen town centre for public contributions to the restoration.
The 85ft (26m) tower, first erected in 1897 to commemorate the diamond jubilee of Queen Victoria, was one of a number of county landmarks damaged during the storms, with others including the sails on Lytham windmill.