Hunt for hidden species at Warton Crag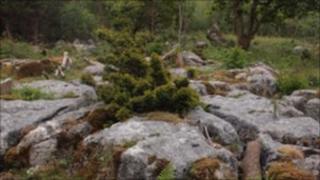 One of Lancashire's most important wildlife sites is going under the microscope as experts begin a survey to find out how many different species it is home to.
Warton Crag near Carnforth is already well-known for its rare butterflies and moths, and according to the Lancashire Wildlife Trust (LWT) "it is a jewel in the nation's crown".
Over the next two summers, experts from Liverpool's World Museum will catalogue the number and variety of invertebrates the nature reserve supports.
Graham Jones, reserves manager from the LWT said: "Warton Crag is up there with the best.
"The area is known for the High Brown Fritillary, Duke of Burgundy butterflies, some of the most important populations of butterflies have a stronghold on the crag, where in other places they have declined quite dramatically.
"Warton Crag and the surrounding limestone area of Silverdale and Arnside are holding their own."
Lesser-known treasures
He said much research had already been conducted on these species but the wildlife charity wanted to get a clearer picture of the reserve and hopefully reveal some of its lesser-known treasures.
Previous surveys on the trust's reserves have recorded close to 1,000 species and highlighted previously unrecorded species, many of which have been notable or scarce.
The final report will help LWT prepare the habitats for important species which have been identified as being susceptible to climate change.
"We want to find out how important the crag is for all other invertebrate species, right down to spiders," Mr Jones added.
"It's one of the tricky things when managing the site, you try to help the butterflies, the moths and birds and you then worry you might impact on other species.
"We need to know how rich it is from a biodiversity point of view and look to future work to help with drier springs and wetter summers."
Visitors to the nature reserve will see a number of different survey techniques, including setting up 'malaise traps' which are large, tent-like structures used to catch flying insects.
Other recording techniques will include the use of brightly coloured dog bowls to record insects that are normally attracted to flowers, and lowering onion bags filled with moss down into the limestone grikes to record the spiders, beetles and woodlice.
LWT manages 38 nature reserves and 19 local nature reserves covering woodland, wetland, upland and meadows.