Labour gains as Tories lose three Lancashire councils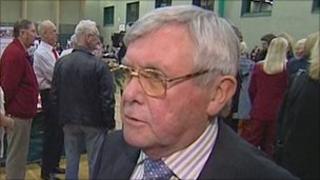 The Conservatives have lost control of three councils in Lancashire after an election that also saw Labour gains.
Labour gained 15 seats to take charge of Blackpool in a victory described as "well-earned" by outgoing Tory council leader Peter Callow.
The Tories lost four seats in Chorley and three in Rossendale to leave both authorities under no overall control.
The Liberal Democrats have held Burnley, but lost seats to Labour gains elsewhere in the county.
Labour also took control of Blackburn with Darwen, Preston and Hyndburn councils.
Its progress in Blackpool was described as "very pleasing, but not unexpected", by new leader Simon Blackburn.
"If you listen to people on the doorstep, this is exactly the kind of result we thought we might get," he said.
Although he held his own seat, Mr Callow, leader of the Conservatives on Blackpool Council, blamed national politics for losses elsewhere.
"I believe the cuts that were imposed on us by the coalition were so severe they didn't take into account that Blackpool - behind the glitz and the glamour - has huge swathes of deprivation," he said.
Labour gained five seats on Chorley Council with the Conservatives losing four and the Lib Dems losing one. The Tories remain the largest party with 23 seats. Labour has 20.
Speaking after the result, Chorley's Lib Dem leader Ken Ball said: "Nick Clegg has let the party down, he's put us back 40 years.
"After these elections I hope somebody takes his place. He's been a bad PR exercise."
Labour's leader Alistair Bradley said: "I think this has been a resounding endorsement of our candidates' work on the doorstep.
"People on the doorstep are feeling affected by the coalition cuts in central government and want strong local councillors to stand up for them locally who can work tirelessly on their behalf."
Elsewhere in the county, the Conservatives held onto West Lancashire, gaining two seats, one from Labour and one from an independent.
The Tories held on to South Ribble, despite losing nine seats, and Wyre Borough Council, where the party lost five seats.
'Turned around'
The party also retained control of Ribble Valley Borough Council after taking three seats from the Lib Dems, giving them a majority of 26.
Council leader Michael Ranson said he was delighted with the result but warned that the party must not lose focus.
"It's incredible when you think that before the last election in 2007 we only had a majority of about four, so it's really turned around," said Mr Ranson.
Fylde council remains Conservative, although the party lost four seats.
The Lib Dems lost four seats in Pendle, which remained in no overall control.
Lancaster Council remains under no overall control, with Labour gaining 11 seats and the Conservatives gaining five.