Lancashire moorland fires still smouldering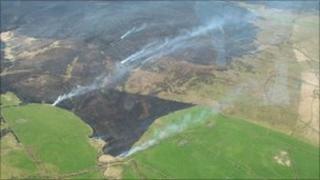 Experts are assessing the environmental impact of the fires which have destroyed large parts of moorland and woodland in Lancashire.
Firefighters are still damping down and tackling smouldering fires at Belmont and in peatland near Ormskirk on the fifth day of the operation.
Greater Manchester fire service is also tackling a fire on nature reserve.
Some areas, such as Pike Stones wood above Anglezarke reservoir, could take decades to recover.
The moorland is open to walkers but they have been urged to take care.
The latest outbreak came at 1437 BST at the Red Moss nature reserve near Horwich, Greater Manchester.
The Wildlife Trust which is responsible for the area has asked firefighters to use water from the protected peat bog which is a site of special scientific interest (SSSI), as the water from their tenders is a different level of acidity to that in the bog.
"We're using water that is already there plus beaters," said a fire service spokesman.
At one point over the bank holiday weekend, 32 fire engines from the 39 stations in Lancashire were out on calls to the site.
'Rain needed'
On Tuesday, spokesman John Taylor said there was still a number of fires smouldering on the moorland.
Firefighters are continuing to put out isolated pockets of fire but are facing "quite a considerable task yet", he added.
"A good downpour of rain would do the job for us, but it looks like that's not going to happen," said Mr Taylor.
"So continuing dry and windy conditions could stir the flames up."
Neville Kidd, manager of the United Utilities estate on the West Pennine Moors, helped to plant the trees which formed Pike Stones wood about 30 years ago.
He said they had been burnt beyond recognition and the wood would take another 30 years to grow back.
"It's right in the middle of the nesting bird season - it couldn't have been time at a worse time," said Mr Kidd.
"All the birds and biodiversity has been lost from the wood, and that's as well as the moorland.
"The trees now have to be taken down. They won't re-grow. They have to be taken down and replanted."
The first fire broke out at Belmont, on both Anglezarke Moor and Wheeton Moor, on Friday morning.
On Saturday afternoon, a second moorland fire broke out in peat at Whitemoss Horticulture at Simonswood near Ormskirk.
A third moorland fire was reported on Sunday afternoon at Moor Wind Farm in Stacksteads, near Bacup.