Walkers warned of Lancashire moor fires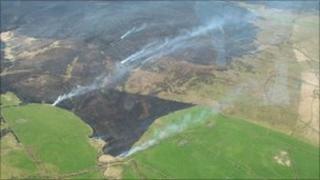 Walkers are being warned to be vigilant as moorland fires burn for a fourth day in Lancashire.
The county's deputy fire chief Paul Richardson said strong winds meant the fires could spread quickly putting walkers in danger without warning.
About 50 firefighters are tackling three separate fires near Belmont, Bacup and Ormskirk.
The fires span several square kilometres, a Lancashire Fire and Rescue Service spokesman said.
Mr Richardson said: "We are advising members of the public who are out on the moors during this period of hot and dry weather to take extra care and be vigilant.
"With strong winds, fires can move across the moors quickly, putting walkers in danger without giving them any warning.
"We are also urging all smokers to make sure that they discard their smoking materials safely and responsibly."
At one point 32 fire engines from the 39 stations in the county were out on calls, the fire service said.
'Hoping for rain'
Crews from Merseyside, Greater Manchester and West Yorkshire have also been involved in tackling the fires, which have been fanned by winds of up to 45 mph.
Firefighters have been using beaters and "back-held aqua packs" to put out the fires, a fire service spokesman said.
"Our main effort is to prevent it from damaging or threatening property," he said. "The crews are keeping it away from fences, roads, farm buildings and trees."
"We are hoping for rain. We've been told by the Met Office that rain is due at about lunch time. That would be a help.
"Other than that, it is a case of extinguishing fire where we can and it just burning itself out in other areas where it doesn't endanger anything or anyone."
Firefighters have been at Belmont since Friday morning where a blaze spread to cover several square miles between Bolton and Chorley, on both Anglezarke Moor and Wheeton Moor.
More than 100 firefighters, 18 fire engines and three specialists have been involved in the operation as well as the police helicopter, a fire and rescue helicopter, a mountain rescue team and United Utilities.
Specialist equipment was being used to transfer water from Anglezarke Reservoir to the fire.
A large amount of smoke has also been drifting from the moorland fire towards Chorley and people have been warned to avoid the area.
The cause of the blaze is not known but it is not thought to be suspicious.
On Saturday afternoon, a second moorland fire broke out in about 48 hectares (120 acres) of peat at Whitemoss Horticulture at Simonswood near Ormskirk on Saturday.
The business supplies peat, compost and horticultural products to gardeners.
Large plumes of smoke were seen drifting into neighbouring areas, and people living nearby were being advised to stay indoors and keep all windows closed.
A third moorland fire which spread to cover two square miles was reported on Sunday afternoon at Moor Wind Farm in Stacksteads near Bacup.