Fire crews remain at Belmont moor blaze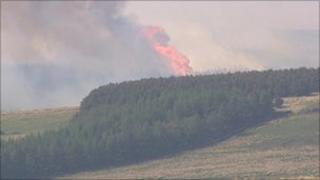 A fire on the moors between Bolton and Chorley is still burning more than 24 hours after it first began.
Lancashire Fire and Rescue Service were called to the fire in Belmont at 1005 BST on Friday.
Firefighters from Greater Manchester joined the effort to control the blaze, which covered several square miles on both Anglezarke Moor and Wheeton Moor.
A large amount of smoke from the fire was drifting towards Chorley and people are being warned to avoid the area.
Smoke warning
Walkers are also being asked to be careful when discarding cigarette butts.
Firefighters stayed near the fire overnight to make sure any properties remained safe.
Twelve fire engines remained on the moor near Belmont village on Saturday morning and they were expected to stay for most of the day.
Station Manager Steve Wilson said: "Residents of Chorley, South and West Lancashire may have noticed large volumes of smoke in area.
"Whilst this smoke may cause people with breathing difficulties some discomfort there are no major known health issues associated with it.
"People with breathing difficulties are advised to remain indoors with their windows and doors shut."