Lancashire Police admit stalking 'failures'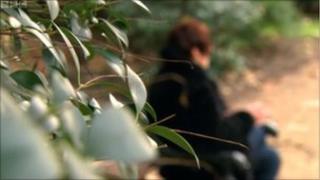 Lancashire Police have adopted a new approach to dealing with allegations of stalking after admitting they had "not always got things right" in the past.
Officers investigating stalking will now use a standard set of questions to establish the level of risk.
They are designed to identify patterns in the alleged offender's behaviour. The force said previous approaches had put "victims at increased risk".
Police refused to identify any cases in which they had failed stalking victims.
'Physical abuse'
However, in January, the BBC's Panorama programme highlighted the case of a woman from Ormskirk in Lancashire who was stalked by an ex-boyfriend for two years.
Despite recording the attacks on her mobile phone, "Eve" - not her real name - said she was not believed by police officers and was "made to feel like a time-waster".
Eve eventually went into hiding for her own safety.
Lancashire Police declined to comment on whether there were failings in Eve's case but said they had taken on board a number of issues raised in the programme.
Det Ch Insp Sam Mackenzie said: "Lancashire Constabulary recognises the serious nature of reports of stalking and harassment which can escalate to other more serious crimes.
"We recognise that the police service has not always got things right when faced with reports of stalking, however we in Lancashire are committed to learning those lessons which have been identified nationally and locally.
"We learnt that failing to recognise risk at the earliest opportunity and failing to identifying patterns of behaviour were putting victims at increased risk and the changes to our procedures are designed to address this."
Valerie Wise, chair of the Lancashire Domestic Violence Partnership, said: "In a significant number of cases we see, the ex-partner continues to harass, threaten and in some cases inflict further physical abuse despite the relationship ending, often in the hope of wearing the victim down to a reconciliation.
"I would appeal to victims to come forward - there is support available and it is unlikely the behaviour will stop on its own."
All staff involved in investigating reports of stalking will be undergoing training at the National Stalking Training Academy.
The adoption of the new procedures coincides with the first National Stalking Awareness Week.