Darwen Vale teachers to strike over pupils' behaviour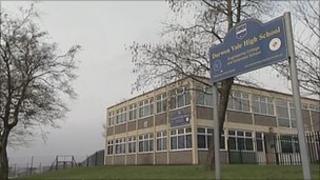 Teachers at a Lancashire school will strike on Thursday over the behaviour of some of its pupils.
Unions claim management do not back staff at Darwen Vale High School in dealing with physical assaults and verbal abuse on teachers.
Members of the National Association of Schoolteachers/Union of Women Teachers (NASUWT) and the National Union of Teachers (NUT) will strike.
Headteacher Hilary Torpey said that the vast majority of pupils behaved well.
Last June's Ofsted inspection rated behaviour at Darwen Vale as good.
'Fight threats'
Lessons for all 1,150 pupils are expected to be called off.
The dispute is also supported by members of the Association of Teachers and Lecturers (ATL) and the support staff's union, Unison.
The unions say pupils' behaviour includes challenging teachers to fights, pushing and shoving staff, pupils making malicious allegations, constant swearing, and filming lessons on mobiles and threatening to post them online.
There have also been problems of cyber bullying and pornography, it is claimed. And it is alleged that when teachers confiscated pupils' phones they have then been returned by management, leaving staff "totally undermined".
Avis Gilmore, secretary of Lancashire NUT, said: "There is obviously a problem, it is the last resort for teachers to go on strike.
"It is necessary to make the management understand the problem."
But one of the school's governors denied that there was a widespread behaviour problem.
Building plan
Simon Huggill said: "I don't think behaviour is particularly bad, my regret is that this has come out into the public domain. The majority are good, hard-working pupils."
Headteacher Ms Torpey, who began her first full academic year at the school in September, said she was disappointed with the strike.
"The vast majority of pupils at Darwen Vale behave well and take their education seriously," she added.
The original Darwen Vale High School is being rebuilt under the Building Schools for the Future programme.
Currently, 1,100 pupils are being housed temporarily in the empty buildings of a former local school, which had a capacity of only 800.
The new £18m Darwen Vale school is scheduled to reopen in September 2012.