Lancaster 'to equal Chester or York' for tourism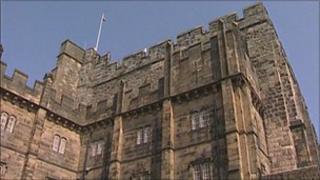 Lancaster could become a tourist destination equal to Chester or York if the town's former prison is developed in the right way, it has been claimed.
The Ministry of Justice (MoJ) announced in January that HMP Lancaster Castle would close at the end of March, and all prisoners have now left.
The Grade I listed building is being leased by the MoJ until 2014.
David Taylor, from Lancaster Chamber of Commerce, said the castle could become a major tourist attraction.
Historical towns
The castle, which also houses Lancaster Crown Court, already runs small tours for visitors.
Mr Taylor, who is setting up a group to look at the castle's future, said: "There would have to be a whole cluster of activities within the castle.
"There could be a hotel, restaurants, holiday accommodation but also exhibitions about the history of the castle, linking the castle with the monarchy and Lancaster with the monarchy.
"The Queen is the Duke of Lancaster but I'm sure an awful lot of people aren't fully aware of that.
"All of this can be developed into activities which would be of interest to tourists and would make Lancaster equal to Chester or York and some of the other historical towns and cities of England."