Blackpool shale gas drilling begins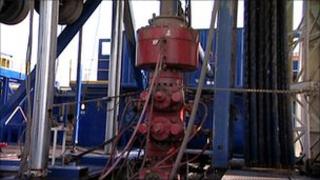 Engineers drilling for shale gas near Blackpool have carried out their first UK operation to fracture the rock thousands of feet below ground.
It was the first step in a process to release gas trapped in a seam of shale running from Clitheroe to the coast.
The process, called fracking, will take place in the coming weeks to see if it is viable.
Earlier this year, environmentalists called for a moratorium on drilling until its safety is established.
Mark Miller, CEO of Cuadrilla Resources, said: "We're convinced there is significant gas and we're right at the stage where we are figuring out whether this would be commercially viable to produce it.
"So that's what the fracking and well testing will tell us over the next 30 to 60 days."
Fracking, which involves the hydraulic fracturing of the ground using high-pressure liquid containing chemicals to release the gas, has been considered controversial in the States, where it is claimed some water supplies near drilling have been contaminated.
Cuadrilla Resources maintains it is safe. The process was backed by MP Tim Yeo of the Energy and Climate Change Committee earlier this month.