Royal couple set to open Darwen academy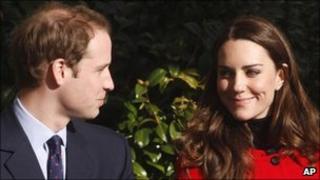 Prince William and Kate Middleton are to take time out of planning their wedding to visit east Lancashire.
The couple will officially open the Darwen Aldridge Community Academy (DACA), in Darwen, on 11 April.
Prince William will also launch the SkillForce Prince's Award, of which he is patron, while at the college.
It will be one of the last official engagements Prince William and Kate Middleton carry out before their wedding on 29 April.
The academy is run by the Aldridge Foundation, an organisation which seeks to "harnesses entrepreneurship as a catalyst for social change".
It said the visit would help celebrate the entrepreneurial achievements of young people at the academy.
DACA's Principal, Brendan Loughran, said: "The fact that the couple have chosen to come and see all the work we are doing in Darwen at what is a very busy time for them is a real endorsement of what we are delivering for the local community.
"We want all our students to aim high - Prince William and Catherine's visit will inspire them to aim even higher.
"We will give them a really exciting day in Darwen, showing them how entrepreneurial thinking is securing real improvements."