Protest over Lancashire respite centre cuts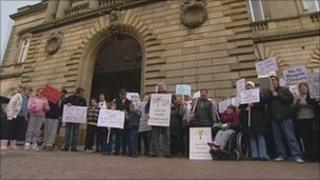 Parents and children have protested over proposals to close two of Lancashire's eight respite centres.
The group, which wants to save the centres used by families of children with disabilities, were outside Accrington Town Hall on Saturday.
The closures may be made as Lancashire County Council is set to make £179m of savings over the next three years.
The council said it was reshaping its respite services, but no decisions have yet been made.
It said it was consulting with parents and carers on the issue.
Parents of those who use the centres maintain they are a vital service.
Family crisis
Pamela McCullagh, whose son has used the Hargreaves House centre in Oswaldtwistle for 10 years, said if it closed it would be devastating for her family.
"As a carer it is really difficult, our children need help with all aspects of their personal care, and they need 24 hour care, you need a break from that," she said.
"It is very hard, it's very tiring, it is quite debilitating for some parents.
"We just need a short break, that is all we're asking for, we need a short break and then we'll carry on caring for our children, but we just need some help.
"We need to have some respite - if you can't have that then it will cause family breakdown and crisis."
She added: "We are hoping that Lancashire will realise that it's a short-sighted budget cut and that they should think again."
Another protester, Stuart Howard, said if it was not for respite care he and his wife would be unable to care for their 13-year-old granddaughter.
"Myself and my wife, we have our granddaughter, she has autistic with severe learning problems.
"We need the respite. We're 60 years old and she's 13 and we need the break.
"We haven't the energy now, we need the respite so that we can recharge our batteries so we can keep going."