Lancaster University to charge maximum £9,000 fees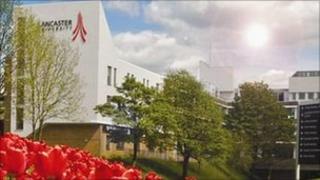 Lancaster University has become the latest institution to announce plans to charge students £9,000 in fees.
The university said charging the maximum amount allowed would reflect its teaching and research standing.
Despite the rise, managers said they believed they would continue to attract bright students from a variety of different backgrounds.
Student representatives voted against the rise, which was approved by the university's council on Friday.
It means full-time EU or UK undergraduates starting at the university in 2012 will be charged the full amount.
Vice-Chancellor Professor Paul Wellings said: "The fee level approved by council today reflects Lancaster's teaching and research standing and will allow the university to build on the high level of education and the collegiate university experience that we currently offer our students.
"We want to ensure that the student experience is outstanding and that academic resources are directed towards making sure that our students leave with qualifications suited to a globally competitive environment.
"We intend to offer a generous and flexible package of financial support to attract and retain the most able students no matter what their circumstances."
Union 'pragmatic'
Lancaster University Students' Union (LUSU) president Robbie Pickles said it was opposed to "all unnecessary fee rises".
He added: "However, in the short term, we need to pragmatic and be sure to create the best deal for students who, whether we like it or not, will have to pay increased fees.
"We will, however, continue to work with students, the NUS and the government to seek new alternatives which mean that, in the long term, students will never again have to face such unnecessary high levels of debt."
The universities of Oxford, Imperial College, Durham, Exeter, Essex, Surrey, Manchester, Warwick, Aston and UCL have now said they want to charge the maximum yearly tuition fee.
Also, governing bodies at Cambridge and Liverpool are preparing to vote on proposals to charge £9,000 per year.
On Thursday, Bishop Grosseteste University College in Lincoln became the first university in England to announce planned tuition fees for 2012 below the £9,000 maximum - saying it intended to charge £7,500 for BA courses.