Legal challenge to over UK nuclear expansion plan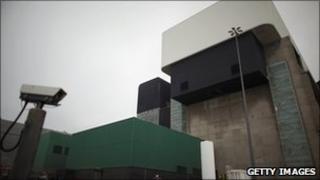 An environmental campaigner has started a legal challenge to the government's plan for more nuclear reactors.
Rory Walker, 24, of Lancaster, believes the Energy Secretary Chris Huhne did not adequately consider health concerns when approving the expansion in 2010.
Eight potential UK sites, including Heysham in Lancashire, have been earmarked for new reactors.
The government said its decisions were "rightly and properly made". Mr Walker has applied for a judicial review.
The campaigner, who lives near the existing Heysham plant, wants to challenge the lawfulness of the secretary of state's decision making in deciding to approve the expansion.
"Surely this decision about the health detriment to communities should be done in the most open and democratic way possible, with all the scientific information available put on the table so we can have a debate," said Mr Walker.
"That's not what Chris Huhne has done here. Chris Huhne has cut the corners dangerously in order to facilitate and push through a new generation of nuclear power stations in the UK.
"That's not acceptable and that's why we are working towards challenging that."
Claims rejected
Irwin Mitchell solicitors, acting for Mr Walker, claim Mr Huhne failed to properly follow the regulatory process under the European Euratom Directive, which lays down basic safety standards for the nuclear industry.
According to their legal papers for the judicial review, the energy minister failed to make proper estimates of health detriment on people living near nuclear facilities during the justification process.
The Department of Energy and Climate Change (DECC) has rejected the accusation.
A spokesperson said: "We are confident that the decisions were rightly and properly made.
"The safety of our nuclear power stations is the government's number one priority and the UK has one of the most rigorous and robust regulatory systems anywhere in the world.
"The government have asked the Chief Nuclear Inspector, Dr Mike Weightman, to produce a report on the implications of the unprecedented events in Japan and the lessons to be learned for the UK nuclear industry."
Mr Walker's application was lodged at the High Court last month and government lawyers have until the end of March to respond.
The coalition government last year endorsed plans for a new generation of privately-built nuclear plants to replace Britain's ageing reactors.
Ministers believe they need to be replaced by 2025 to ensure Britain is not over-dependent on foreign sources of energy and help meet carbon reduction targets.