Darwen Vale teachers threaten strike over behaviour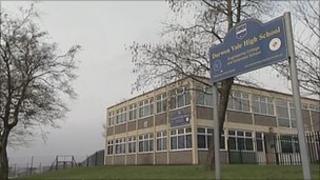 Teachers at a Lancashire school have threatened to go on strike over the behaviour of some of its pupils.
Unions have said Darwen Vale High School is out of control, with reports of physical assaults on teachers and staff being verbally abused.
However, the schools' watchdog Ofsted rated behaviour at Darwen Vale as "good" in its inspection last June.
The school's head, Hilary Torpey, said she, the chair of governors and unions had "agreed a way forward".
However, the National Union of Teachers said while some progress had been made, it would still be balloting its members over a strike.
In a statement issued by Blackburn with Darwen Council, Ms Torpey said: "Myself and the chair of governors met with colleagues from the unions today to discuss the issues they have raised.
"We are working together and have agreed a way forward which is in the best interest of all our young people and our school community.
"The meeting was positive and encouraging. I would like to thank parents for their support and I will be communicating directly with them.
"I am also very proud of our students today. As always they have responded supportively.
"Anyone who has any concerns should feel reassured that they can contact me directly."