Meningitis 'killed Denise Hendry'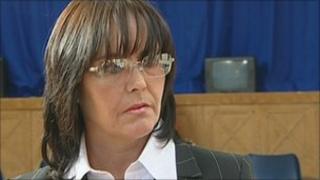 The wife of former Scotland footballer Colin Hendry died after bacteria spread from her stomach to her brain causing meningitis, an inquest has heard.
Denise Hendry, 43, endured a seven-year battle with illness after a botched liposuction operation in April 2002.
She suffered nine punctures to her bowel and died during one of several operations to correct the damage.
Coroner Jennifer Leeming gave a narrative verdict at Bolton Coroner's Court.
She cited brain inflammation, blood clotting from a drain inserted into her head to relieve pressure and meningitis as the medical cause of death on Mrs Hendry's death certificate.
The court heard how the mother-of-four underwent the "routine" cosmetic surgery performed by foreign doctor Gustaf Aniansson, at the private Broughton Park Hospital near Preston, Lancashire.
She had to have a series of operations to correct the damage, and it was during one such "high risk" 16-hour operation at Salford Royal Hospital when she died in July 2009.
Mrs Leeming said: "Denise Hendry died of a combination of necessary ventilation following complex abdominal surgery carried out to address the consequences of previous surgery that had been performed in an attempt to deal with the complications of necessary surgical procedures, following and required, because of nine perforations of Denise Hendry's bowel during her abdominal liposuction procedure."
Speaking to Colin Hendry, she added: "The respect and admiration I feel for your wife Denise as a result of her immense courage and fortitude in dealing with what happened to her is beyond words.
"You, your children, Denise's parents and all of her family and friends have in my view been cruelly and tragically deprived of a very special person and Denise herself has been robbed of the life she so much enjoyed.
"Would you accept my most sincere condolences for her loss."
The two-day inquest heard from Dr Chinari Subudhi, a microbiologist at Salford Royal Hospital, who said he took samples from Mrs Hendry while she was in intensive care after the last operation in April 2009.
Dr Subudhi said he believed the bacteria klebsiella, which occurs naturally in the gut, had spread from her stomach to her lungs and then to her brain.
He said the spread of the bug in the blood stream was common in critically ill patients who were on a ventilator, as Mrs Hendry was.
Dr Aniansson, who is believed to be still practising in his native Sweden, had been notified of the hearing, but did not attend and instead sent a written statement in which he described the operation as "uneventful", when in fact she was rushed into intensive care.
One doctor tried to report Dr Aniansson to the General Medical Council to get him struck off, but he was "a step in front", Mr Hendry said, and voluntarily removed himself from the British medical register in 2003.
Legal action
Mr Hendry said he would not be commenting on the result.
His solicitor said he could not rule out further legal action from the family.
The inquest heard Mr and Mrs Hendry, who lived in Lytham St Annes, Lancashire, had been together for 25 years and had four children, Rheagan, Kyle, Calum and Niamh.
Mr Hendry, who also played for Rangers and Blackburn Rovers, had described his late wife as, "beautiful inside and out" as he relived her agonising and tragic battle with illness.
He told the hearing: "To look at Denise, even when ill, she was beautiful.
"She did not let anybody really realise what was going on."