Christian bookshop in Preston gets lifeline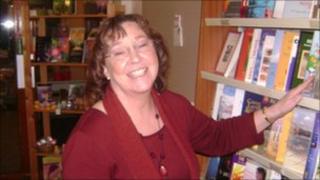 A 30-year-old Christian bookshop in Lancashire, which closed down on Christmas Eve last year, has been given a reprieve.
Covenant Books, which is part of the Holy Family Roman Catholic in Ingol, Preston, has been told by its trustees that it can re-open.
A further decision will be taken on its future in six months' time.
The non-profit making shop is now hoping people will support them.
Hospitality and nourishment
Brenda Dale, one of the volunteers who runs the shop, said: "Closing down on Christmas Eve was the saddest day of all.
"We had seen tears through the previous few weeks. So many people were disappointed because we are a place of hospitality and a place of nourishment."
Thirty years ago, the shop began life in a broom cupboard in the back of the Holy Family Church.
Annie Colbert, who still runs it, founded the Christian facility which began to flourish and gain a reputation for quality goods.
The shop now offers hundreds of books, statues, CDs and religious memorabilia.
Brenda said: "Out of that broom cupboard today's ministry grew to be amongst the upper echelons of Christian bookshops in Britain.
"Eventually we needed a board of directors and, though we set out to be non-profit making, if there has been any money over it has been used to develop the ministry.
"It allowed people to take stock and use it in their churches."
The once tranquil economic holy waters began to get choppy about five years ago when less people were visiting and now, as with many retail outlets, suppliers demand paying promptly their stock. They are not prepared to wait until sales have been made.
"It became difficult five years ago and it has been very difficult over the last two years where we have had to work out what we can order as we went from season to season.
"For instance, we have to order our Christmas stock in February. We are specialised in selling Christian cards and cribs that people have difficulty finding elsewhere.
"We are highly individual."
The stock that is ordered at the beginning of the year needs paying for in August, but most of it isn't sold until closer to Christmas.
Brenda feels the power of prayer has got them this far. "The church prayer group has always backed us by prayer. We have prayed through all that has happened to us. It has taken us to places that we never expected."
The situation became crucial in September 2010 when the bookshop struggled to pay a bill. In the following months, with the recession hitting suppliers who needed their invoices settling, it became apparent that the 30 years of Covenant Books was coming to a close.
"We had to steel ourselves to discount stock which we gradually did. Worst of all, the team was broken up."
Use or lose it
However, early in the year the outlook changed dramatically. With a big smile Brenda said: "We thought we had to sell the stock, then we were made an offer for our stock for someone to take away and use elsewhere.
"We didn't know what to do. We had to get on a sound footing. We didn't know where we were going. The board of directors came to us and said they had done their sums and with volunteer help we could start again for a six month trail period."
It is now a case of use it or lose it. "We need people to support us!" said Brenda.
"When we were closing people seemed so sad. We have made friends in the whole area. People visit us from as far away as Cheshire.
"I've known people travel from London to call in and see us on their way to Ireland."
The shop is tucked in besides the Holy Family Church in Ingol. It isn't the easiest bookshop in Lancashire to find, but is surprisingly big and packed with religious inspiration. "We offer a warm welcome here," said.
"Yesterday someone was with us doing research. Whilst they were having their soup at lunchtime they reflected that this bookshop is a kind of sanctuary."
Over the next few months, the board of directors, volunteers and the many who shop there will hope that the bookshop is a sanctuary that won't be too quiet for too long.
Joe Wilson presents the faith programme on BBC Radio Lancashire from 6am each Sunday.