Denise Hendry was 'beautiful inside and out'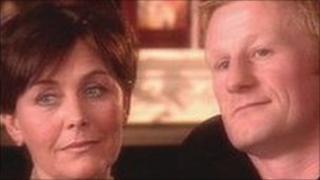 Former Scotland footballer Colin Hendry has described his wife Denise as "beautiful inside and out" at the inquest into her death.
Mr Hendry, 45, relived Denise's seven-year battle with illness following botched cosmetic surgery in April 2002.
She suffered a punctured bowel during a liposuction procedure at the private Broughton Park Hospital, Preston.
She had several operations to correct the damage but never fully recovered and died in July 2009, aged 43.
The former football star, nicknamed "Braveheart", was told by a doctor his wife had a 90% chance of dying in the days after the 2002 operation, the inquest heard.
Mr Hendry had been with his wife, originally from Dundee, for 25 years and they had four children together.
"She was very down to earth - just a beautiful woman inside and out really," the former Scotland captain told Bolton Coroner's Court.
"She enjoyed the good times as well, she enjoyed life to the full."
'Extremely disgusted'
Mrs Hendry was "gravely ill" after suffering the bowel perforations and was transferred to the Royal Preston Hospital two days after the botched operation, the hearing was told.
Mr Hendry said other doctors were "extremely disgusted" when they examined his wife's injuries.
"They were pretty much mad, to think that that could have happened to somebody," said Mr Hendry, who also played for Rangers, Blackburn Rovers and Bolton Wanderers.
One doctor tried to report the surgeon, Dr Gustaf Aniansson, to the General Medical Council to get him struck off, but he voluntarily removed himself from the British medical register in 2003.
Coroner Jennifer Leeming said she had no powers to order Dr Aniansson to attend, as he was out of the country. He is believed to be practising medicine abroad.
The coroner read out a written statement from Dr Aniansson, dated 10 May 2010, in which he described his surgery on Mrs Hendry as "uneventful".
After the operation, Dr Aniansson said Mrs Hendry was treated with morphine for pain relief and, later, she suffered nausea and vomiting which he attributed to the effects of general anaesthetic.
Brain surgery
By the following day she was recovering normally, but Mrs Hendry began to deteriorate later that day, the inquest heard.
Later she suffered several infections and had a further operation at the Royal Preston Hospital in October 2007.
During that procedure, she suffered a further perforation to her bowel and complications with her leg.
She remained in hospital until that Christmas, but her life by then was affected "enormously", Mr Hendry said.
In April 2009, Mrs Hendry underwent another operation at Salford Royal Hospital.
"We were pretty much content with what had been conducted. At times it looked as if everything was working to plan," Mr Hendry said.
But on 6 May, Mr Hendry was told his wife needed further surgery to relieve pressure that had built up on her brain.
Despite undergoing neurosurgery, Mrs Hendry died on 10 July.
At the hearing Dr Peter Bunting, consultant anaesthetist at the Royal Preston Hospital, spoke about when Mrs Hendry was admitted in 2002.
"The first time I met Colin Hendry was to tell him there was a 90% chance that his wife would not survive," he said.
Asked by the coroner to give his opinion on the cause of Mrs Hendry's death, he replied, "I feel the chain of events started on April 10 [2002] with that [liposuction] operation."
"Without that initial operation and the perforation of the bowel, she would not have been admitted into the intensive care unit at the Royal Preston Hospital."
The inquest continues.