Family of Morecambe swine flu boy in vaccination call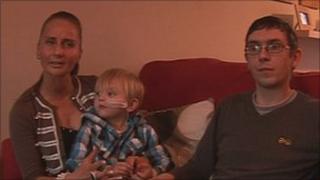 A four-year-old boy from Morecambe is back home after recovering from a serious case of swine flu and liver failure.
Oliver Scrase-Smith was in intensive care at Leeds General Infirmary.
His liver had failed and he was given a 10% chance of surviving the night before he was diagnosed with swine flu, his family said.
They added they were angry he had nearly died when a vaccine could have prevented the illness.
'Super-urgent' transplant
His father Richard Smith, 34, is calling on the government to give vaccinations to all.
He said: "Anybody who is classed as fit and healthy, like Oliver was, [can't] get a vaccine.
"In my eyes that is wrong. It should be available to everyone, especially children."
Oliver's mother Amy Scrase said: "When I think the cause of why my son was in a coma was swine flu and you can have injections to prevent it... it makes me very angry."
The four-year-old suffered liver failure and he was placed on a "super-urgent" liver transplant list.
He was transferred from Lancaster Royal Infirmary to Leeds, almost 90 miles away, to be treated by liver specialists.
Ms Scrase, 31, recalled "everything flashing around her" when she was told of the seriousness of his condition.
"Everything just falls around you, you want to fall to the floor and scream. You expect a doctor to say they can make him better, not to turn round to you and say they can't do anything."
"The doctor said Oliver had less than 10% chance of making it through the night, so he suggested getting the family down to say goodbye to him.
"Having to tell your family that your son is dying and they've got to come and say goodbye and you can hear them screaming... it was just horrendous, just awful."
'Dramatic improvement'
However, Oliver managed to survive the night and a matching liver was found.
Just hours before doctors were due perform the transplant he made a dramatic improvement and they diagnosed swine flu, the four-year-old's father said.
He was taken off the transplant list and Oliver was put in an induced coma for 10 days while they treated him for swine flu.
After a month in hospital, he was well enough to return home.
Mr Smith, who works in customer services, said: "We feel so lucky. It really hits home when people in the same situation as us didn't get to take their child home with them.
He added: "We are still awaiting the results of tests to see if there is any permanent damage to his liver but doctors are confident he will make a full recovery."
A spokesman for the Department of Health said its current policy on vaccination of under fives was based on the latest advice from independent experts, the Joint Committee on Vaccination and Immunisation (JCVI).
The spokesman said: "Experts have not recommended the vaccination of children who do not have risk factors.
"However, this is constantly reviewed and the JCVI will look at this again in the coming months."