Man jailed over GBL drug death in Blackpool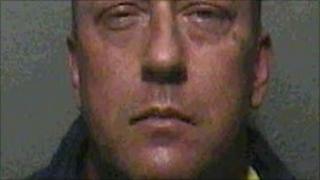 A man who owned a flat in which a woman died after taking the party drug GBL has been jailed for perverting the course of justice.
Stephanie Balcarras, 22, who moved to Blackpool from Hamilton, Scotland, was found dead in Steven Mawdsley's flat in St Annes, Lancashire, in October 2009.
Mawdsley threw away two empty containers marked "methadone" to avert suspicions that he was involved.
The 43-year-old was given an 18-month sentence at Preston Crown Court.
The court heard he told police Ms Balcarras was cold and blue but breathing when he moved her to a sofa.
He then fell asleep after taking the drug himself.
When he woke up more than four hours later, he discovered she had not moved and called an ambulance.
Police inquiries later revealed he had thrown out two bottles labelled "methadone" before officers arrived at the scene, with other evidence suggesting the flat had been tidied up.
Tests showed Miss Balcarras had mixed GBL with alcohol. Police confirmed her death was drugs-related and was not suspicious.
Speaking after sentencing, Det Insp Brian King of Lancashire Police said: "I would like today's events and sentence to serve as a strong warning to anyone considering taking the same course of action.
"It is absolutely crucial during any investigation that all the evidence is made available in order to establish an accurate picture of what has happened, for the investigation itself, and most importantly for the family of the people involved.
"By doing what he did, Mawdsley could easily have jeopardised that and I hope that the fact he has been convicted and brought before the courts illustrates what a serious offence this is."
Miss Balcarras's mother, Teresa Kerrigan, of Barrow in Furness, has set up a charity named The Rose in which she aims to highlight the dangers of drugs to young people.
GBL is used in the chemical industry and appears in cleaning products, solvents and paints.
It was a so-called "legal high" until it became a Class C drug in December 2009.
The drug has a similar chemical structure to the date rape drug GHB and is thought to have caused about 20 deaths in the UK.