Broughton bypass and A6/M55 roundabout plan revived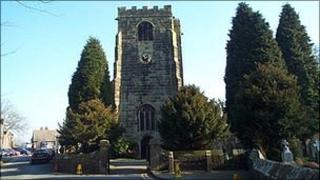 A controversial plan to build a bypass at Broughton, near Preston, is being revived.
Efforts are being made to resurrect the plan to ease congestion in the village and on Preston's A6/M55 roundabout.
Lancashire County Council is drawing up new proposals estimated to cost almost £19m to alleviate the high volume of traffic using the A6.
About 22,000 vehicles use the A6 daily and the scheme should reduce congestion by between 80-90%, the council said.
The county council also said it would cut the number of accidents in the area.
Residents' fears
Geoff Driver, leader of the county council, said: "Broughton has suffered serious traffic congestion for at least 40 years and there has been talk of a bypass for 20 years.
"Until now nobody has come up with a deliverable solution, but this new proposal would greatly improve the situation for residents, road users and businesses.
"The cabinet is recommending that the county council sets the money aside to take forward preparations for a combined bypass and roundabout scheme together with the county council's contribution to the cost of implementing it."
Many residents have been fighting the project since it was first announced in the early 1990s.
They formed the Broughton Bypass Review Group opposing the new road for the impact it would have on the village church and school.
'Desecrate the area'
Chris Couper, a member of the group, said: "I don't know what the new proposal is but the previous one was the wrong solution for problems in the village and would be an environmental disaster. It would desecrate the area around the village."
He added: "I would be interested to discuss any variations to the original bypass planned with the council."
The scheme would be part-funded by the county council together with a significant private sector contribution linked to the redevelopment of the Whittingham Hospital site for housing and employment.
Subject to approval, work on the bypass scheme could begin by 2013.